The trope of mother as superparent is a resounding rejection of grace.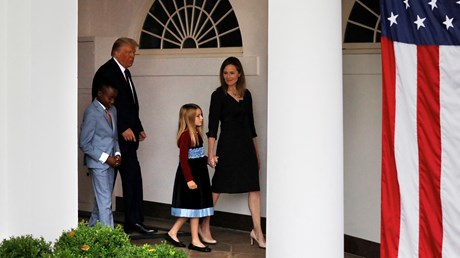 Every nominee to the Supreme Court faces intense scrutiny, and Amy Coney Barrett is no exception. Nominated to fill the seat of feminist icon Ruth Bader Ginsburg, Barrett, a mother of seven, seems to represent a new kind of "possible." It's not simply that she has managed a career alongside a family. She's managed what Mike Pence called a "sizable American family" alongside large-scale professional ambition. During her confirmation hearings, senators expressed admiration for her "tireless," "remarkable," even "superstar" example.
If Barrett's nomination succeeds, she'll become the first woman on the Court who's a mother to school-age children. Predictably, there have been a spate of articles touting the gains Barrett represents for conservative women. As one woman put it, Barrett looks both like the women in her church and the professors in her graduate school: "She seem[s] to be the whole package."
It's a public ovation that's well deserved. Still, I worry about this: What myths do we perpetuate by assuming that Barrett (and women like her) are doing it all and doing it all by themselves?
One of the first articles I read about Barrett cited the early morning hour (between 4 and 5 a.m.) at which she rises to exercise before ferrying some of her children to and from swimming practice. To see her maternal form against the dark sky, the sun cradled beneath the horizon, reads like epic poetry—or even biblical verse. As Proverbs 31 details, the virtuous woman is one who "gets up while it is still night; she provides food for her family and portions for her female servants." As the story takes shape …