How to heal a medical system that abandons the vulnerable.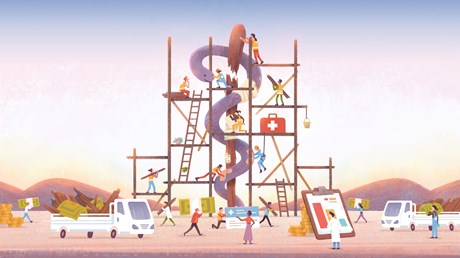 In seven years, Bethany Joy Kim has cycled through Obamacare, a Christian health care sharing ministry, state insurance, employer-based insurance, and back to Obamacare.
Kim's biggest concern, amid her various insurance experiences, has been cost. She was living in Arizona in 2014 when she purchased insurance through the marketplace established by the Affordable Care Act (ACA). But her premiums increased and she couldn't find doctors who would accept her plan, so eventually she canceled it.
When Kim and her husband moved to Wisconsin in late 2017, she was expecting. She qualified for BadgerCare, the state's insurance program for pregnant women and children. Not long after, the family got insurance through her husband's new employer. Even with about $600 taken out of her husband's paycheck each month to pay for premiums (the employer paid the other half), Kim was surprised that they still spent thousands of dollars annually out of pocket in the form of copays and uncovered percentages.
"When I look at the amount I pay in for the library system or the fire department, that seems reasonable. When I look at what I pay for health care, it doesn't make sense to me anymore," Kim said. She is hardly alone: The average premium for family insurance coverage last year was $20,000, a 54 percent increase from a decade earlier.
In between Obamacare and state insurance, when Kim was without insurance, she joined Medi-Share, one of several major nationwide Christian health care sharing ministries (HCSMs). Since 2010, when HCSMs and their members were exempted from various ACA requirements, these ministries have seen a dramatic increase in enrollment and now count over 1.5 million members.
HCSMs …