SBC president J. D. Greear explains the uptick in an alternative name: Great Commission Baptists.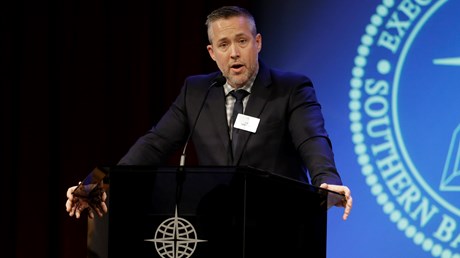 Several prominent Southern Baptist Convention (SBC) leaders have embraced a moniker that identifies it with the denomination's mission rather than its regional (and at times racist) past: Great Commission Baptists.
Last month, SBC president J. D. Greear announced "We Are Great Commission Baptists" as the theme for next year's SBC annual meeting and said the Durham, North Carolina, church he pastors will employ the descriptor in lieu of identifying as Southern Baptist.
Great Commission Baptists has been an authorized descriptor of America's largest Protestant denomination since 2012, when SBC messengers adopted the nickname by a 53 percent–46 percent vote. Though the idea has been floated and rejected over the years, it was not an official name change for the SBC, which took on the name Southern when separating from Northern Baptists over slavery prior to the Civil War.
Seminary president Danny Akin and SBC Executive Committee president Ronnie Floyd have also embraced the moniker. But others have given it a lukewarm reception. The newly formed Conservative Baptist Network within the SBC said its members support the 2021 annual meeting theme but reject "the idea that the name 'Southern' is racist" and oppose "any effort to change the name of the SBC that is simply a desire to pander to advocates of Critical Race Theory, Intersectionality, and similar ideas."
In an email interview with Christianity Today, Greear discussed the theme and its implications for the SBC.
Why did you select the theme "We Are Great Commission Baptists" for the 2021 SBC annual meeting?
The Great Commission is what unites Southern Baptists, the reason we come together. We are …