Cathy McMorris Rodgers says she wants to bring people together in divisive times.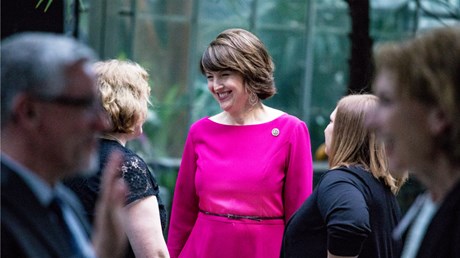 Editor's note: This profile is the third in a CT series featuring Christian candidates from both parties who are running for Congress in November.
Congresswoman Cathy McMorris Rodgers has firsthand experience with what political division looks like. She knows how it feels to be hated. She has been called a liar, has had people turn their backs on her as she spoke, and was once booed off a stage.
It's part of the reason she's so passionate about unity.
McMorris Rodgers is seeking reelection to the US House of Representatives in Washington's 5th District, an office she has held since 2005. McMorris Rodgers was at one point the chair of the House Republican Caucus, making her the highest-ranking GOP woman in the House, and she was considered by President Donald Trump for the position of Secretary of the Interior. Before congress, she served as a member of the Washington State House for 11 years. She is now seeking her ninth term as a US representative.
McMorris Rodgers won her last race by more than 30,000 votes, and according to a recent forecast from Politico, she is predicted to win again in 2020. She is also outraising her Democratic opponent Dave Wilson, according to reporting from the Spokesman-Review. By mid July, she brought in almost $3 million in contributions, compared to Wilson's $28,000.
But even though she's winning, McMorris Rodgers knows the last weeks of the campaign won't be without challenges. In fact, the last four years have brought some of the toughest days of her political career.
One of the worst was January 16, 2017. In that narrow stretch of time between an election and inauguration, McMorris Rodgers was asked to give a speech in Spokane. After a very divisive national …