Polls show faithful supporters no longer see the Republican incumbent as the "lesser of two evils."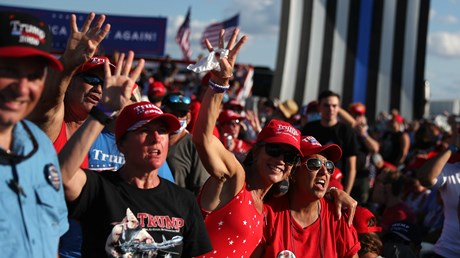 While white evangelicals' support for President Donald Trump is close to the strong backing he enjoyed in 2016, voters' motivations have shifted during his first term at the White House.
This year, a majority are excited to get behind Trump, rather than being primarily motivated by a distaste for his opponent. Among white evangelical Trump supporters, most characterize their vote in 2020 as "for Trump" (57%) and not "against Joe Biden" (20%), according to new Pew Research Center survey breakouts provided to CT.
Last presidential election, the numbers told a different story. White evangelicals voting for the Republican were more likely to say their vote was "against Clinton" (45%) than "for Trump" (30%) in Pew's 2016 survey—which researchers caution isn't directly comparable to the recent numbers because it was done by phone, while this year's was done online.
Tony Suarez, executive vice president of the National Hispanic Christian Leadership Conference, says four years will change your perspective. He served on Trump's faith advisory panel leading up to the 2016 election. This time, he's actively campaigning for reelection.
"Now I'm more than an adviser," said Suarez, who has spoken at Evangelicals for Trump events around the country. "It's my call because of what I've seen in the last four years. … He respects prayer, receives prayer, and respects the faith community, but he gets a bad rap."
Trump's reputation is also an animating factor on the Left, where more Biden voters overall say they are voting "against Trump" than "for Biden."
The only religious …